Best Online Graphic Designs Degrees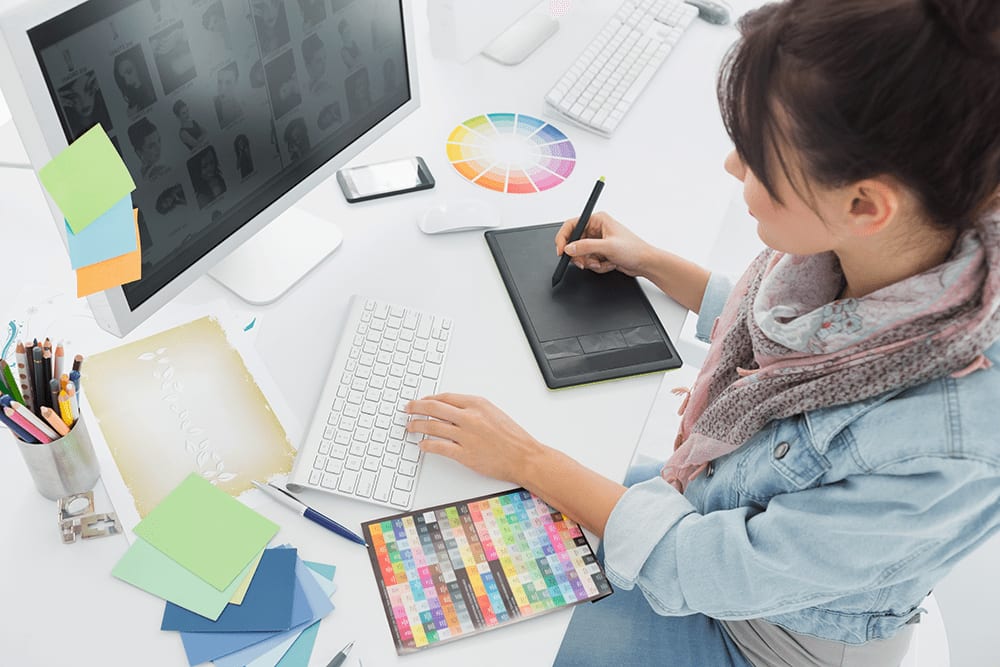 Are you ready to find your fit?
Graphic designers use text and imagery to convey ideas and information to audiences. Taking inspiration from fine art, graphic design can factor into any form of visual media, including websites, magazines, infographics, software interfaces, and corporate logos.
Today, most graphic design work occurs on computers, making the field ideal for online study. Online graphic design programs enable students to work remotely, mimicking the online environment in which many freelance graphic designers find employment. The flexibility of online learning also makes it easier for students to maintain a job while pursuing their degree.
This page ranks the best online graphic design programs. It also covers important information for prospective students, including common courses, career and salary information, and scholarships for graphic design students.
FAQ on Online Graphic Designs Degrees
Q. What is graphic design?
Graphic design visually communicates information, conveying ideas through text and images. Graphic designers may work with a variety of media, such as websites, magazines, and software interfaces.
Q. How long does it take to earn a graphic design degree?
Most graphic design bachelor's degree programs take four years of full-time study to complete. Master's in graphic design programs typically take 1-2 years to complete.
Q. What kind of graphic design degree can I get?
Many schools offer graphic design degrees at the undergraduate and graduate levels. Many schools also offer graphic design associate degrees and certificates.
Q. What is the difference between graphic design and fine art?
Graphic design focuses on visual communication, typically for commercial purposes. Fine art focuses on various artistic mediums, such as painting and sculpture.
Career and Salary Outlook for Graphic Design
Graphic designers may work with any type of media that involves a visual element. In print media, designers may create layouts and designs for book covers, magazines, catalogs, posters, and brochures. In digital media, they may create websites, user interfaces, and various other forms of digital imagery. Graphic designers may also create logos and other images for organizations.
Graphic designers often work as freelancers, but they can also find salaried work. After building significant professional experience, graphic designers may progress to roles such as art director, overseeing the visual direction of websites, print publications, or other media.
Salary levels vary widely in the field. For instance, graphic designers earn an annual median wage of $52,110, while art directors earn an annual median wage of $94,220. The Bureau of Labor Statistics projects job openings for graphic designers to decrease from 2019-2029, but graphic designers with a bachelor's or master's degree can distinguish themselves in an increasingly competitive field.
Career and Salary Outlook

| Career | Lowest 10% | Median Annual Salary | Highest 10% |
| --- | --- | --- | --- |
| Graphic Designers | Less than $30,810 | $52,110 | More than $89,210 |
Source: Bureau of Labor Statistics
Accreditation for Graphic Design
When researching online graphic design programs, students should always make sure a school holds accreditation. Accreditation indicates that a school meets high standards with respect to factors like faculty qualifications, student learning outcomes, and academic rigor. Schools may receive regional or national accreditation, with regional accreditation generally considered the more prestigious of the two. Learn more about accreditation through our accreditation guide.
Programs within a school may also hold accreditation. Art and design schools may hold accreditation from the National Association of Schools of Art and Design (NASAD). Schools with NASAD accreditation typically maintain strong reputations for art education.
Courses in a Graphic Design Program
Graphic design programs cover a variety of theoretical and technical topics related to the concepts, history, and practice of art and visual communication. Graphic design students typically complete both art and design courses, exploring diverse topics such as the history of painting, typography, and modern desktop publishing. Many courses also focus on software such as Photoshop and Illustrator.
Courses vary by program, but this list highlights five courses commonly found in graphic design programs.
Digital Imaging

Digital imaging and the use of digital software play a major role in graphic design. This course introduces key digital imaging concepts, theories, and processes. Learners study topics including image construction, printing, scanning, color correction, and image manipulation.

Typography

The use of text figures heavily into graphic design and visual communication. This course examines the role of typographic information and its relationship with images. Students may explore topics including letterform, spacing, composition, and mechanical processes. Many courses also highlight the history of typography in visual communication.

Color Theory

This course examines the role of color in design and visual communication. Learners study topics like color interactions, pictorial composition, light, and expressive uses of color in various media. Different color theory courses may focus on different mediums, such as painting, printmaking, or digital composition.

Intro. to Art History

Most graphic design programs offer a curriculum rooted in the humanities. This course offers an overview of the history of art. Learners study the various impacts of art and artists throughout history, particularly within social, cultural, and economic contests.

Desktop Publishing

This course focuses on desktop publishing applications such as Adobe Photoshop and InDesign. Students learn how to use these applications in the creation of visual works such as magazine covers, flyers, and brochures.
Scholarships for Graphic Design
Graphic design students can take advantage of scholarship opportunities to finance their education. Some scholarships serve candidates pursuing any type of art degree, while others award students specifically enrolled in graphic design programs. This list outlines three popular scholarships for graphic design students.
Who Can Apply: The Congressional Black Caucus Foundation offers this scholarship to any Black student pursuing a degree in the visual arts, including graphic design. Applicants must include a personal statement and a sample of their visual work.
Amount: $3,000
Who Can Apply: Framing company Churchill Classics offers this scholarship to visual arts majors, including graphic design majors. Applicants must sustrongmit an original work demonstrating how they frame their future.
Amount: $5,000
Who Can Apply: GraphicDesignDegreeHustrong.com offers this scholarship to any college student majoring in graphic design, animation, multimedia design, or visual art. Applicants must sustrongmit a sample of their visual work.
Amount: $1,500
Best Online Graphic Designs Degrees
See our rankings methodology page.
This guide ranks the best graphic design degrees in the country. These programs combine comprehensive professional preparation with a flexible online format, preparing graduates for a variety of freelance and salaried positions in graphic design.
Online College Resources
Helping you prepare and gain the most out of your educational experience.
Discover a program that is right for you.
Search schools to find the program that is right for you.