Best Online Master's In Electrical Engineering Degrees
A ranking of the most affordable online master's in electrical engineering degrees. Ranked by affordability, flexibility, and academic quality.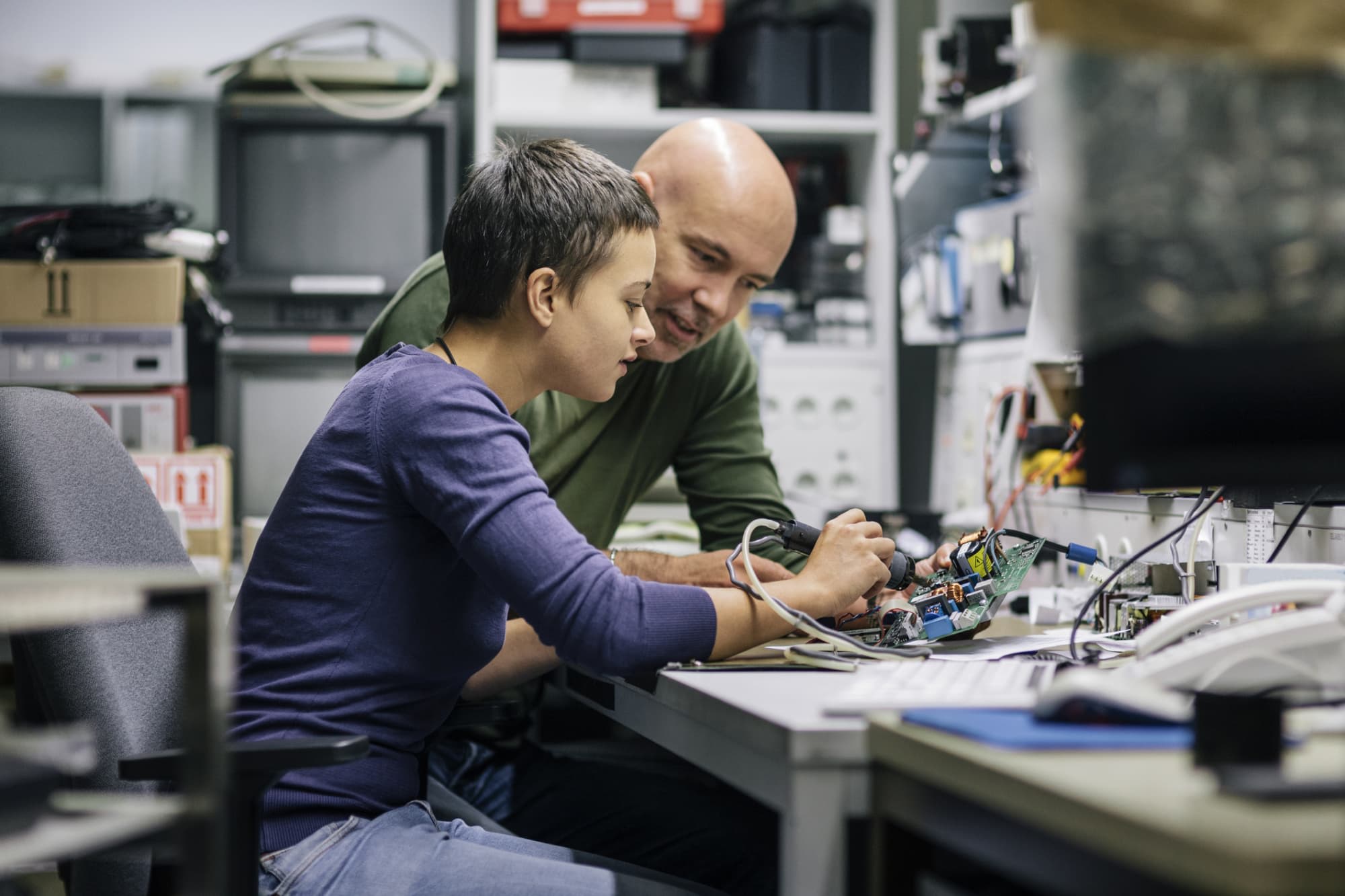 Are you ready to find your fit?
Power up your career by attending of the 15 Most Affordable Online Master's in Electrical Engineering!
Are you ready to move forward in your engineering career? Maybe you're tired of moving laterally in your current company. Maybe you just earned your bachelor's degree and are ready to push to the next level.
Whatever the reason is, you will want to take note of these schools. Because they all meet a criteria that everyone's looking for these days: affordability and flexibility.
A tight budget and a busy schedule should not keep you from meeting career goals. Believe me, you're not the only one who is caught in this bind! That's why some of the best educational options these days are offered online.
If this scenario fits your situation, look no further. You'll find an affordable program that considers both your budget and your lifestyle with this list of the Most Affordable Online Master's in Electrical Engineering!
Accredited Online College Programs
Explore our featured online programs and find the right match for you today.
What kind of Online Masters in Electrical Engineering should you get?
Electrical engineers keep our world in motion. Everything in your home (and beyond!) that uses electricity was likely designed or developed by an electrical engineer. That covers a lot of ground! From car engines to stereo systems to satellites, electrical engineer are the masterminds at work behind the scenes. Since this field is so vast, it's natural that your selection of master's program is varied too.
You'll find a number of common areas of focus within these schools. Some, like the University of California at Riverside (#3) and the University of Arkansas (#15) specialize in power systems. Others, like Missouri University of Science & Technology (#8), emphasize electrical engineering research. A number of the schools give you the choice of a thesis track or a non-thesis track.
Clearly, you have options! One great way to start is to identify the area of electrical engineering that interests you the most. Then, find a school that features those areas. One great thing about all of these programs is that they share a common feature: affordability! No matter which school you choose, you know it's one of the best "bang for your buck" programs in the nation.
If you're looking for other affordable graduate programs, take a look at our ranking of the Most Affordable Online Graduate Colleges.
How much money do people make with a Master's degree in Electrical Engineering?
If your budget is tight now, you'll be happy to hear that it won't be that way forever. Electrical engineers make an impressive median annual salary of $94,210, according to the Bureau of Labor Statistics.
You probably know by now that you can use your skills as an electrical engineer in practically any industry. The top-5 annual earning areas for electrical engineers are in the following sectors:
Federal government: $107,510/year
Navigational/measuring/electromedical manufacturing: $105,880/year
Semiconductor and electronic manufacturing: $99,760/year
Engineering services: $99,160/year
Telecommunications: $92,380/year
Even more, with a global push toward technology and automation, the demand for innovative electrical engineers is on the rise. Employment rates are projected to increase by 7 percent in the next 10 years.
What can you do with an Online Masters in Electrical Engineering?
Electrical engineers are situated at the forefront of modern society. They are innovators, creators, and big thinkers. Have you ever wondered who dreamed up smart phones, GPS, or hybrid cars? Electrical engineers!
You're not only dealing with electrical circuit boards and computer systems; you're saving the world! Here are a few (of the many) places to envision yourself in the working world:
Developing biomedical equipment to help fight diseases
Designing solar panels or hybrid cars to help save our environment
Creating intricate systems of defense for our military
Optimizing telecommunication systems to span the globe
What are the requirements for an Online Masters in Electrical Engineering?
Distance learning makes education accessible and affordable. Once you find the master's program that fits your needs, you shouldn't have much trouble jumping into the program.
You'll encounter some common curriculum features, however. All of the program lengths tend to range from 19-24 months. This varies, of course, with whether or not you're attending as a full-time or part-time student. As is common with a master's degree, most of these schools include a curriculum that requires 30+ total credit hours.
Hands down, the biggest requirement is the completion of a Bachelor of Science degree from an accredited college or university.
What are the best Online Masters in Electrical Engineering?
While some of these programs specialize in telecommunications or power systems, and others emphasize nanotechnology or digital sound, all of these schools share one thing one common: affordability and flexibility. You'll be able to launch (or re-launch) your career in electrical engineering without breaking the bank.
Here at College Choice, we've crunched the data. We started first with the net cost of each program in the nation and then factored in graduation rates, retention rates, and the early salaries of graduates.
Our final list offers the Most Affordable Online Master's in Electrical Engineering in the nation. Our figures and information come from the university and colleges' websites, PayScale, and nationally recognized U.S. News & World Report and The National Center for Education Statistics.
Ranking
See our rankings methodology page.
Online College Resources
Helping you prepare and gain the most out of your educational experience.
Discover a program that is right for you.
Search schools to find the program that is right for you.